Weekly Nugget
Drilling Into The Biggest Headlines This Week 🗞️
Read up on the latest news in mining from around the world... and on the moon! Plus, prepare for a big rise in drill results come September!
---
🗨
Drilling Into The Biggest Headlines This Week
Welcome to your latest Weekly Nugget! As always, the mining industry is buzzing with news, but I think we are all awaiting that one thing… those September drill results! I shared this graphic a few months ago on social media, but I updated it with our latest drilling news filing data for you awesome Nugget readers. August is generally the most significant dip in drilling news before it takes off in September, and based on the 2022 press release number, I'm excited to see what this year brings! However, I've dug up some news on Space Mining, investing news, and more in the meantime!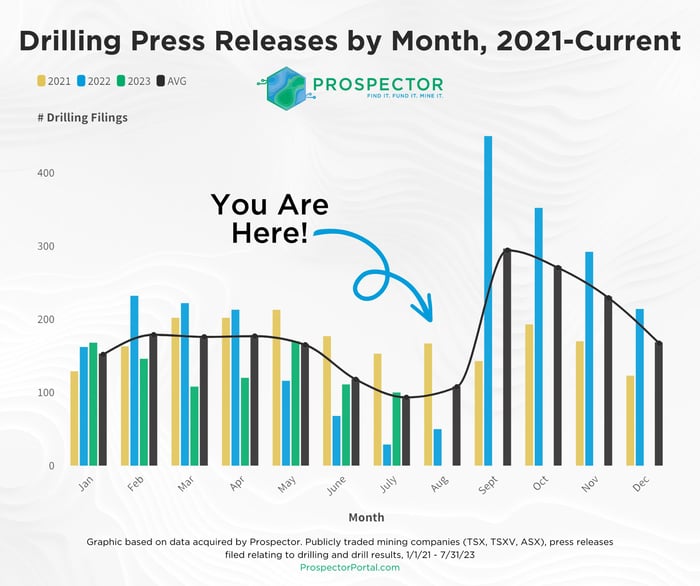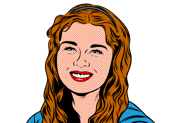 Jess Scanlan
Head of New Media

---
🔥 What's New
🚨 2 Weeks 🚨 August Monthly Mining Roundup!
I know, we aren't sure where this summer has gone either! Our team is excited to chat with you all on our latest live stream. Be sure to click "attend" and "add to calendar" so you don't miss it!
🎧 On The Rocks

---
📰 In The News
Why Nations Are Eyeing A "Lunar Gold Rush"
Major powers like the US, China, and Russia are increasingly interested in mining the moon due to valuable resources like water, helium-3, and rare earth metals that could be used for rocket fuel, nuclear fusion reactors, and advanced technologies. However, current space law is unclear on property rights, with the 1979 Moon Agreement banning ownership of any part of the moon but not ratified by significant space powers. The Artemis Accords established by the US aim to build safety zones on the moon amid a new "lunar gold rush." However, a legal framework for moon mining remains uncertain as the race to extract lunar resources intensifies.
Biden To Designate Monument Near Grand Canyon, Preventing Uranium Mining
President Biden will designate nearly one million acres near the Grand Canyon as a new national monument to permanently ban uranium mining, despite objections from the National Mining Association, which called the move "unwarranted." The association argues the ban will force the US to rely on imported uranium from adversaries like Russia. The administration has argued that the proposed monument represents only 1.3% of the nation's known uranium reserves. Biden's visit to Arizona and the monument designation aim to promote his climate agenda among Native American and environmentalist voters, though polls show most Americans remain unconvinced of his climate efforts.
Western Australia To Scrap New Aboriginal Heritage Protection Laws
Western Australia will scrap a 2021 law designed to protect Aboriginal cultural heritage sites and restore an amended 1972 law after farmers and landowners complained the new regulations were too complex and costly. The 2021 law was passed following the destruction of the 46,000-year-old Juukan Gorge site by mining company Rio Tinto. But groups like the Puutu Kunti Kurrama and Pinikura Aboriginal Corporation have criticized the move, saying that the 1972 law gives indigenous groups fewer rights to protect sites. Though imperfect, the 2021 law improved the 1972 regulations, they argue.
Europe Is Embarking On A Mining Renaissance, Winning Over Locals Is Proving A Challenge
The small Portuguese village of Covas do Barroso, home to under 200 people, sits near one of Europe's richest lithium deposits essential for electric vehicle batteries, but locals worry a new mine just a third of a mile from houses will destroy their idyllic community. As governments fast-track mining projects to secure materials for the green energy transition, resistance is growing among communities like Covas, who will feel the impact, highlighting the challenges of balancing supply chain needs with environmental concerns and local opposition.
Mining Is Growing Rapidly - So Are Investor-State Disputes
A study by Charles River Associates finds that disputes between governments and mining companies are growing rapidly, nearly doubling over the past decade. Most disputes involve gold and copper assets in Latin America and Africa. The rise is attributed to greater government intervention, especially around environmental and social issues. With the energy transition, base metals critical for EV batteries are expected to be the source of more disputes in the future. The average dispute takes five years to resolve, can hinder financing, and claimed compensation is often much higher than awarded amounts. Overall, the analysis shows that as the mining industry expands globally, legal disputes inevitably increase as well.
Should You Invest In Gold?
Central banks boosted gold purchases to record highs in 2022 amid economic uncertainty, but gold prices have since pulled back on improved economic data and hawkish Fed policy. While gold can be volatile, it remains attractive to some investors as an inflation hedge and safe haven during market stress. Experts say gold can play a small role in a diversified portfolio, but it doesn't earn interest and lags stocks long-term. Investors can gain exposure through ETFs like GLD rather than holding physical bars and coins. Moderation is key, with many advisors cautioning against speculative trading or overexposure given gold's lack of cash flow.
Breaking New Ground For Sustainable Mines
Minerals processing uses significant energy globally. Small innovations in tailings management and industry collaboration can improve sustainability. Researchers are finding ways to extract more value from tailings, reduce crushing energy needs, and collaborate across disciplines and with all stakeholders. Events like the Juukan Gorge destruction demonstrate the importance of including Indigenous groups. While competing interests make collaboration difficult, it is essential for optimizing the minerals value chain.
---
📱 Trending On Social
---
❓Prospector Poll

(Anonymous!)
How are you spending the last little bits of summer?
Each week we want to get your opinion about the mining industry. We'll release the results with next week's Nugget!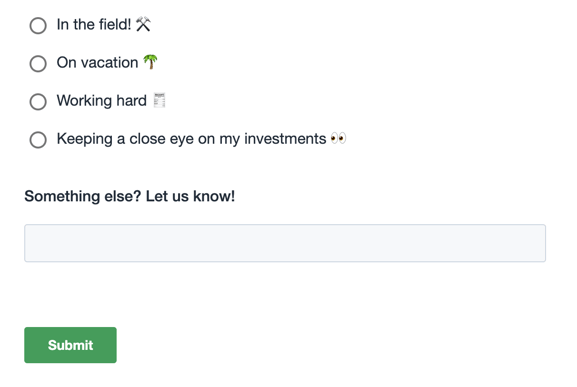 Last Weeks Results:

What do you think is the most critical use of copper today?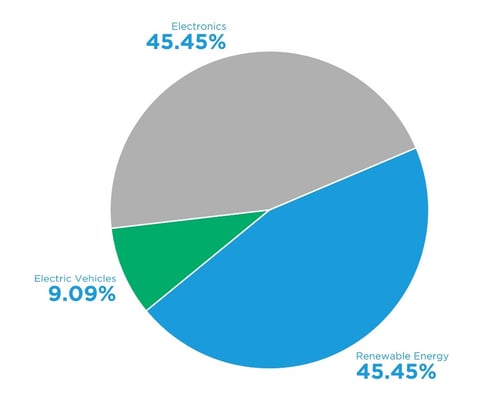 ---
Get The Nugget in your inbox every week, scroll down to subscribe