On Trend
Using Artificial Intelligence for Mining Data
Popular AI platforms are changing the way people research and interact with data. But, there are limitations! Check out how Prospector fills in the gaps!
---
Recently, Mining.com posted a great article about the limits of popular artificial intelligence platforms, such as ChatGPT and Midjourney. ChatGPT's knowledge base is limited to past data, and although it is constantly evolving, so is the mining industry! We at Prospector are here to help clear things up for those interested in the most up-to-date, comprehensive mining data!
Note - these AI platforms are constantly learning and evolving. ChatGPT now gives users a notice that it's information may not be up as up to date as they are looking for!
Prospector is the search engine for the mining industry. Our powerful AI allows users to easily sort, filter, and find mining data. Our interface is built to be easy to use, beautiful, and save time! Let's check out what Prospector has to say versus ChatGPT!
Prompt: Name all the lithium mining projects in Canada
Answer: While ChatGPT may pull up some examples to answer the question, only Prospector's powerful AI allows users to sort and filter mining and mineral exploration projects by commodity, location, project stage, and more!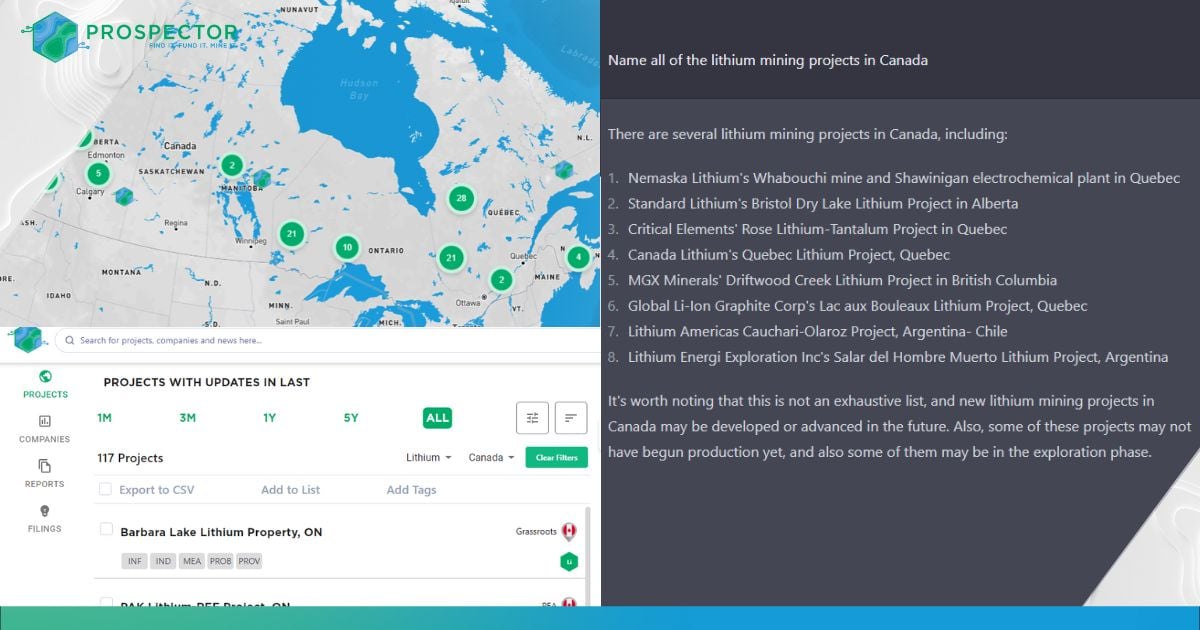 Prompt: How many mines and mining companies are on the Toronto Stock Exchange?
Answer: The TSX is one of the leading mining stock exchanges in the world. ChatGPT notes that the number fluctuates, but only Prospector is updated with the latest information and projects daily!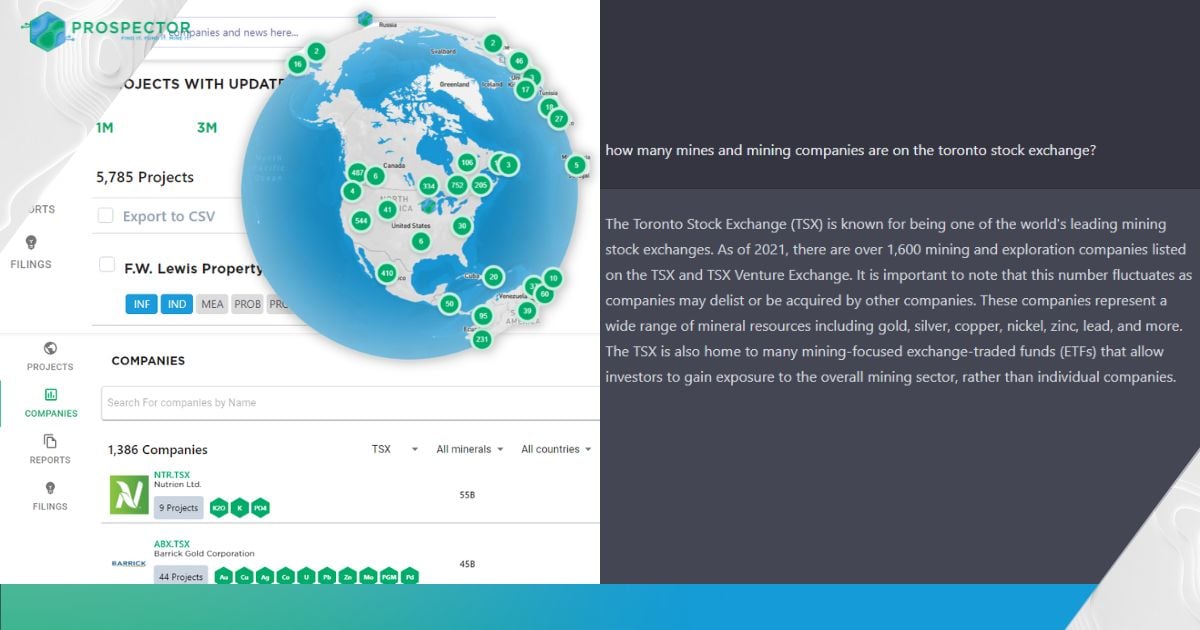 Prompt: What mining projects are currently under construction in Brazil?
Answer: Prospector's AI powered interface keeps users up to date on the latest mining and mineral exploration stages. ChatGPT has some good information, but Prospector has the full comprehensive picture!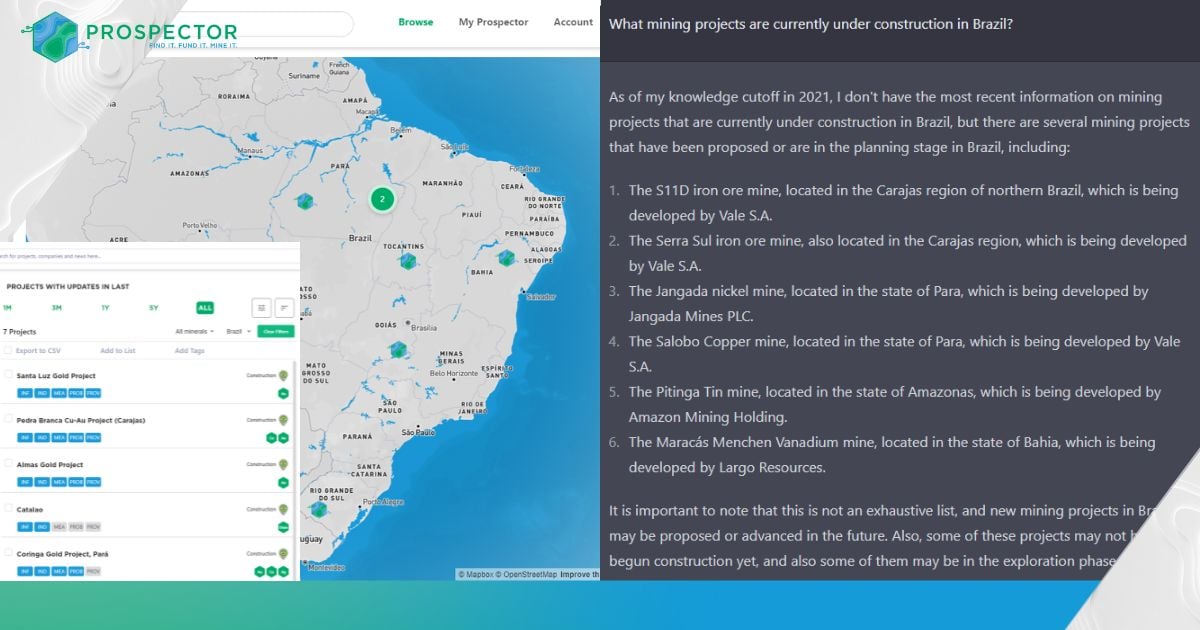 Prompt: What is the X Mine NPV at a $1,200 gold price?
Answer: ChatGPT gives you a long winded answer for any NPV calculations, and remember the input data is out of date! Prospector's built in NPV calculator pulls life of mine data directly from the technical report, and allows users to flex various inputs to automatically calculate NPVs!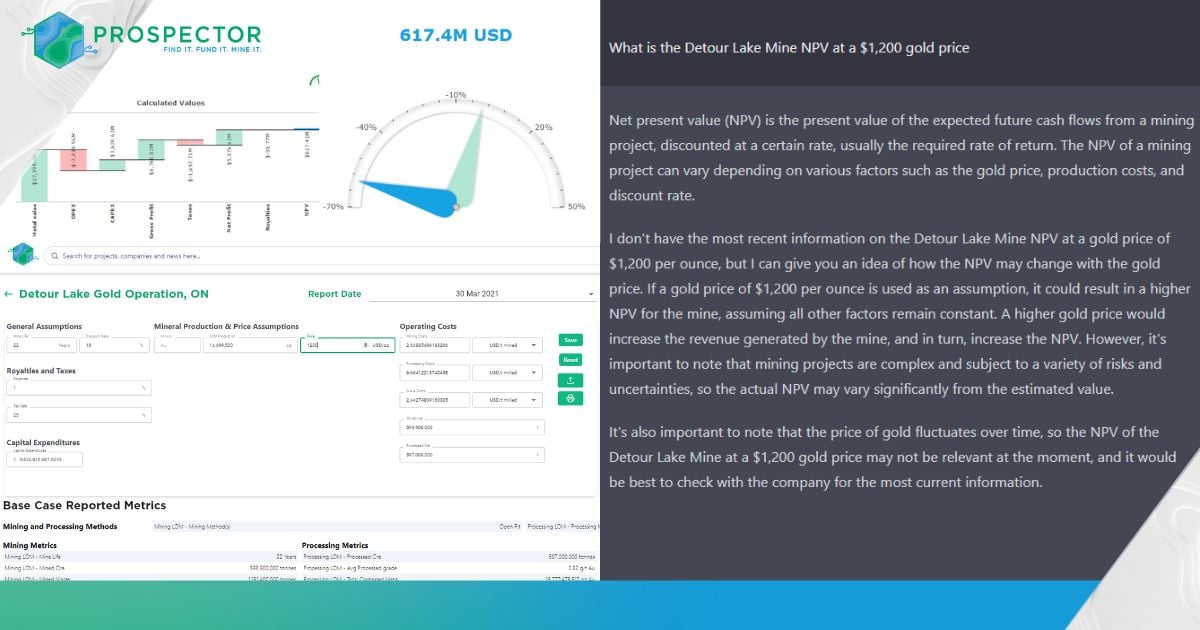 Prompt: How do the mineral reserves of X Mine compare to similar projects?
Answer: ChatGPT is pretty limited with it's mining knowledge, and the information is generally out of date. With Prospector, users can not only see resource and reserve data, but also compare the project with similar peers in the industry, and see how these estimates have changed over time!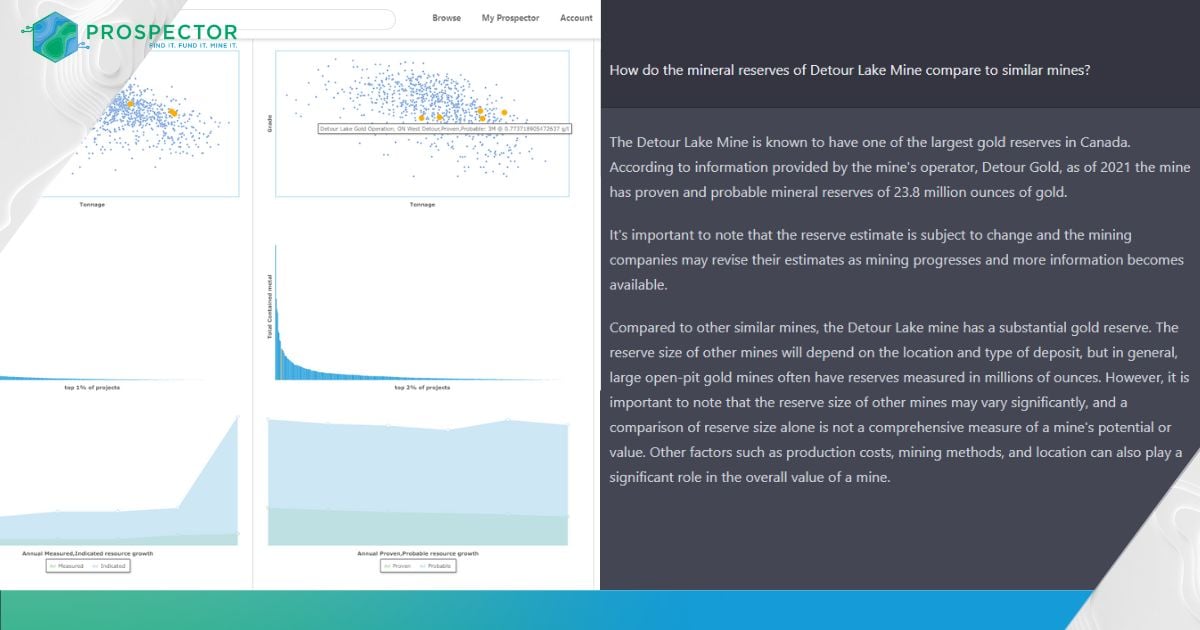 Which would you choose for your go-to mining data AI?