Feature Updates
What is the difference between resources and reserves?
Mining jargon and phrasing can be confusing, especially when it comes to Mineral Resources and Reserves. Here we distinguish the two types.
---
Mining jargon and phrasing can be confusing, especially when it comes to Mineral Resources and Reserves. These commodity estimate levels may sound similar, but the wording can make a big difference when it comes to knowing the confidence of a mining project's deposit.
What is a Mineral Resource?
A mineral resource has a specific definition according to the Canadian Institute of Mining, Metallurgy and Petroleum (CIM):
"a concentration or occurrence of solid material of economic interest in or on the earth's crust in such form, grade, or quality and quantity that there are reasonable prospects for eventual economic extraction".
This is one of the first stages of defining mineable deposits, which means that through sampling and other data geologists have found that there is something there that could possibly be mined.
Projects with a mineral resource can still pose a risk because there are different types of resources based on confidence and work done.. The highest risk for investors is the inferred mineral resource, as it is the lowest level of geological knowledge and the first stop in the mineral estimation process. The lowest risk of the mineral resource is the measured mineral resource, since much more is known about the characteristics of the mineral deposit at this point. The middle option is the indicated mineral resource estimate.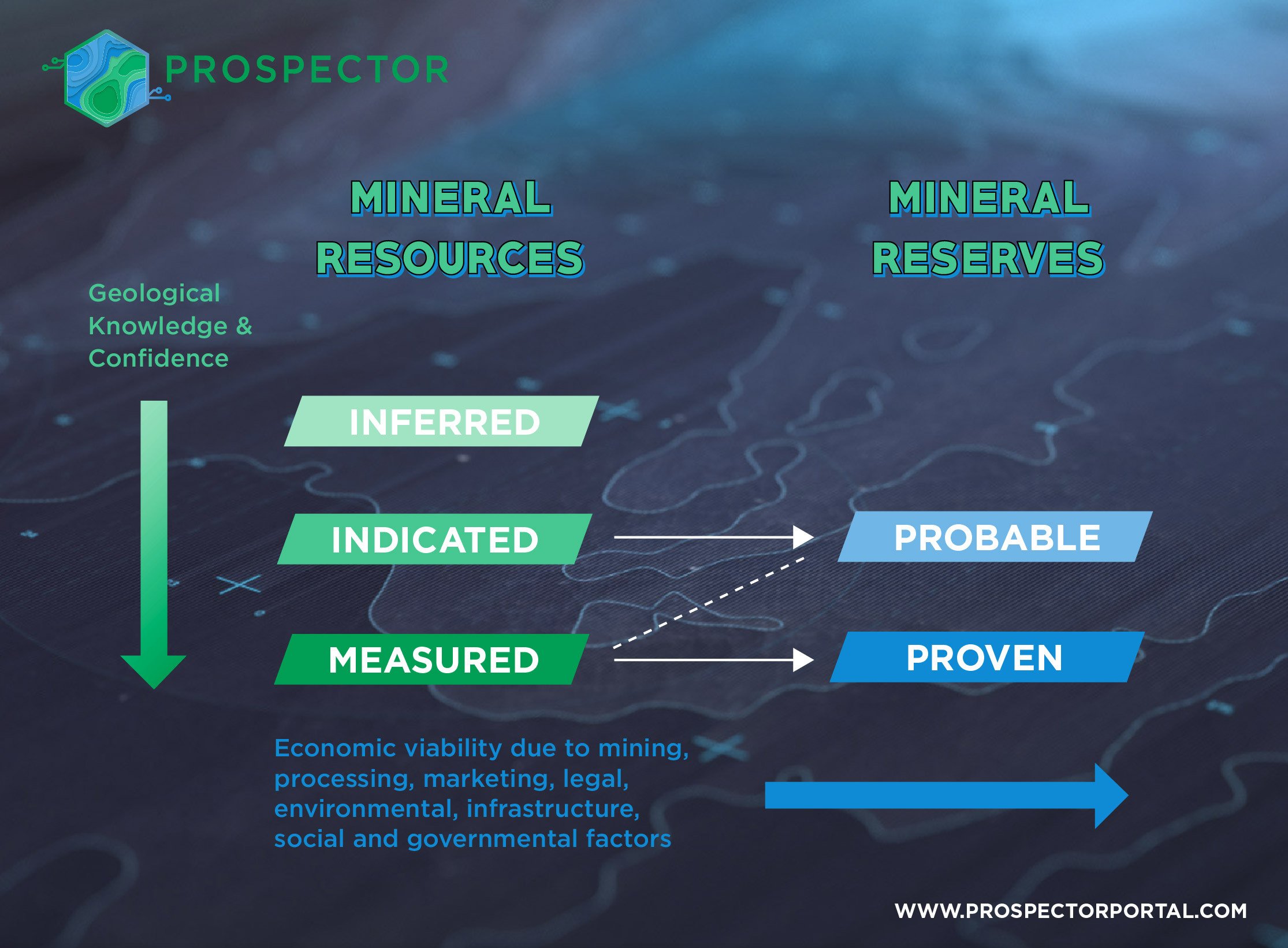 Mineral resources found in the NI 43-101 technical report put out by companies listed on stock exchanges that are overseen by the Canadian Securities Administration. Often they are listed in the report summary, as well as detailed in-depth in the Mineral Resources section (Section 14) of the report.
Companies that aren't listed on Canadian stock exchanges can list resources on their company or project website.
What are Mineral Reserves?
As mineral resources gain more geological and economic confidence, they may be converted into a mineral reserve estimate. A mineral reserve is "the economically mineable part of a measured and/or indicated mineral resource. It includes diluting materials and allowances for losses, which may occur when the material is mined or extracted and is defined by studies at Pre-Feasibility or Feasibility level as appropriate that include application of Modifying Factors. Such studies demonstrate that, at the time of reporting, extraction could reasonably be justified."
A mineral reserve must be documented by at least one preliminary feasibility study, conducted during the "deposit appraisal" phase in the mineral development process. The mineral reserve is what happens when enough studying and testing has been done to determine that the mineral resource is reasonably economical to mine.
Mineral reserves are also less risky in an investing form, as often pre-feasibility and feasibility studies have been done on the deposit. Proven mineral reserves are the lowest risk for investors, because there is a high degree of geological confidence and consideration of economics. Probable mineral reserves are a higher risk than proven reserves, but lower risk than mineral resource estimates.
Same as mineral resources, mineral reserves are listed in the NI 43-101 technical reports if the mining project has them available, such as companies that are listed on Canadian stock exchanges.
Early stage mining projects may not list mineral reserve estimates, since the confidence in the deposit may not be to that stage yet. If a project does have Reserves listed they can generally be found in the summary, as well as Section 15 of the report.
Prospector allows users to also search by the Mineral Reserve estimate levels of Proven and Probable with the advanced filter!
Finding Resources and Reserves on Prospector
Prospector's filters give you the opportunity to sort and filter projects by these mineral estimate levels, as well as project stage. For example, if you're looking for operations with lesser risk, you could filter the Mineral Estimate Levels by proven and probable mineral reserves.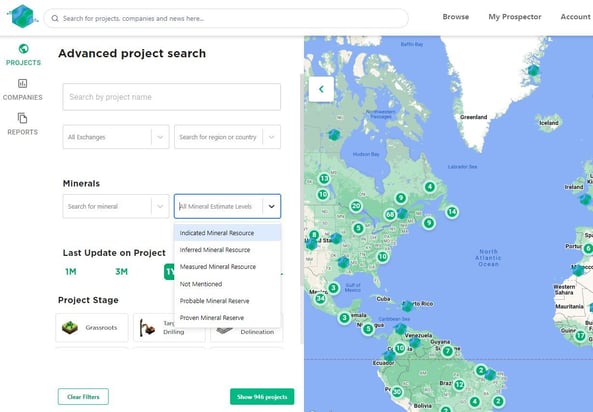 You could also filter by operations that are in the Production stage. Users interested in investing in exploration projects and companies might use the mineral resource estimate levels and the Grassroots stage.
Resources and Reserve estimate levels change over time as exploration projects continue. New resources may be found, and resource estimates may gain more economic and geological confidence and be converted into reserve estimates. Prospector allows users to also track these trends on convenient charts!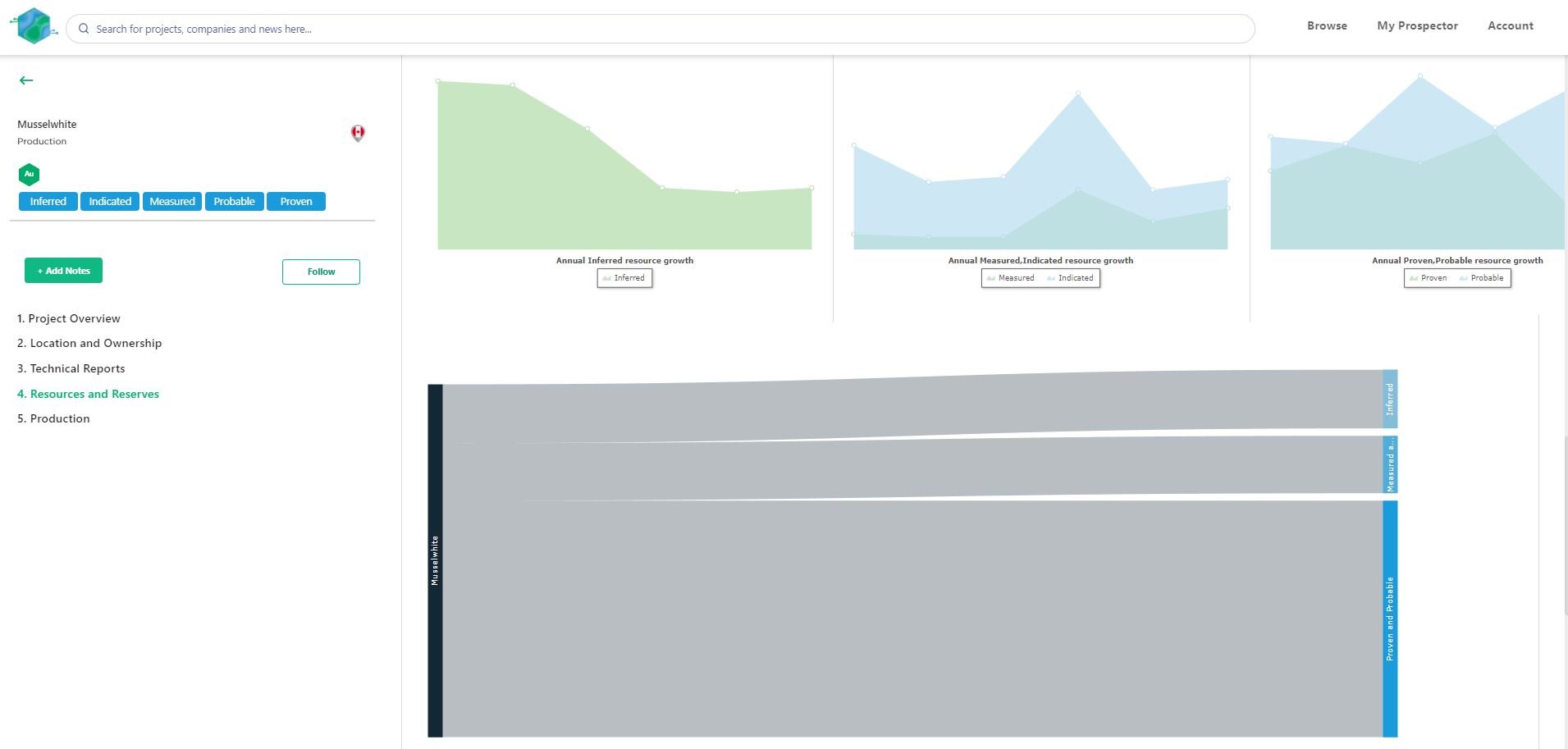 Prospector's newest product, Analyst, even pulls these mineral estimates out of the report for you and adds them to a convenient table or chart! Find the project that is right for you and learn more on our website!