Weekly Nugget
Auto Manufacturers and Miners Flirt for an EV Future Together
The auto industry will rely on the mining industry to provide the lithium, cobalt, nickel, and other materials needed for the batteries powering EVs.
---
Elon Musk recently tweeted that lithium is the new oil and is quoted as saying: "The fundamental governor of the rate at which we can transition into sustainability is the rate at which we can grow the output of lithium ion batteries."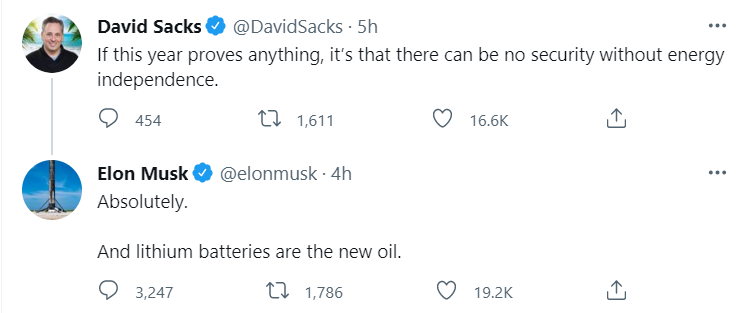 The EV future ever creeps closer and so does its material impact. The auto industry will have to rely on the mining industry to provide the lithium, cobalt, nickel, and other materials needed for the batteries powering EVs.
Earlier in April, Elon Musk had suggested that Tesla could start mining lithium to meet increased demand for batteries. But the Tesla CEO has said in an interview on a podcast that he isn't too enthusiastic about the idea any longer, owing to limited human resource and the complexity of lithium mining and refinement processes.
While Tesla has no plans to be a miner or takeover a project, Musk and other auto manufacturers are working to secure a supply of the minerals his company needs.
The auto industry is in the early stages of forming new relationships within the EV supply chain. But what do these relationships look like?
Miners, Battery Manufacturers, and Autos
Metal and minerals trading firm Glencore bought a stake in Britishvolt, the U.K. startup that plans to build the country's first large-scale battery factory for electric vehicles.
Volkswagen and Northvolt created a 50/50 joint venture to build a factory for lithium-ion batteries in Germany. BWM has agreed to the principles of ethical mining and sourcing of materials by signing the Initiative for Responsible Mining Assurance "IRMA".
Jeep-maker Stellantis is in talks with two companies on securing lithium, including becoming the second largest shareholder of Vulcan Energy Resources. France-based Renault has already signed an offtake deal with Vulcan, which plans to process lithium from subsurface geothermal brines in the Upper Rhine valley of southwestern Germany.
General Motors is partnering with a lithium and power development company near California's Salton Sea geothermal field. GM will have the rights on lithium produced by the first stage of the project, including an option for a multi-year relationship.
Tesla signed a deal with BHP for the nickel from its Western Australian mine after Elon Musk tweeted concerns about supply due to challenges sourcing the metal in a sustainable manner.
The EV maker also agreed to a cobalt agreement with Glencore in June 2021 and inked a deal in late March to fund a nickel-mining venture in New Caledonia.
Automaker Ford partnered in 2019 with IBM, South Korean battery maker LG Chem and, Huayou to trace cobalt in a sourcing scenario.
Ford is planning to launch at least nine all-electric cars and crossovers and at least three electric trucks, vans and SUVs. It recently signed deals with Australia's Liontown Resources and Lake Resources to provide lithium.
Supply Constraints
This is just a small sample of the deals happening between battery makers, auto manufacturers, and miners. However, just like with gas-powered cars, the auto industry never took direct control in the oil or tire business.
The EV future bodes a future of closer relationships with battery manufacturers rather than just miners to secure stable supply in volatile commodity markets, but where will there be enough lithium to go around?
According to the IEA, only 1% of global vehicles on the road were electric in 2020. However, this is a huge increase from 2010 and the supply of the necessary metals is already feeling the pressure.
Roskill's analysts estimate lithium carbonate equivalent demand will increase above two million tonnes by 2030, more than 4.5 times from 2020. Analysts at Roskill forecast cobalt demand will rise to 270,000 tonnes by 2030 from 141,000 in 2020.
According to one study published in Nature, in a lithium-nickel-cobalt-manganese oxide battery scenario, demand is estimated to increase by factors of 18 to 20 for lithium, 17 to 19 for cobalt, 28 to 31 for nickel, and 15 to 20 for most other materials from 2020 to 2050, requiring a dramatic expansion of lithium, cobalt, and nickel supply chains and additional resource discovery.
Prospector has 414 lithium projects and counting in its database. Book a private demo to see how you can find the next source of lithium.