A Politician's Sound and Fury Over Lithium Deal Signify Nothing
The leader of Canada's opposition party is demanding a national security review of the Neo Lithium takeover by China's Zijin Mining.
---
The leader of Canada's conservative party, Erin O'Toole, had asked the government to conduct a national security review of the proposed takeover of Canada's Neo Lithium (TSX-V: NLC; US-OTC: NTTHF) by China's Zijin Mining, citing the country's need for critical minerals.
However, according to reporting from Canada's Globe & Mail, the Federal Industry Minister said the transaction was reviewed for security and was even subject to enhanced scrutiny.
China's Zijin Mining announced plans to acquire Neo Lithium for C$6.50 per share in cash, roughly valued at $960 million, in October. Neo Lithium's shareholders approved the transaction in December.
The government gave the Neo Lithium deal approval 45 days after it was announced. It was the fastest possible timeline for approval.
Zijin is listed on the Shanghai Stock Exchange and Hong Kong Stock Exchange. Its largest shareholder Shanghang Minxi Xinghang State-Owned Property Investment Co. holds 24% of Zijin, which is owned by the government of Shanghang County, Fujian Province where Zijin's head office is located. China's CATL (300750.SZ) has an 8-per-cent interest in Neo Lithium Corp.
All foreign takeovers of Canadian companies go through a security screening by the federal government, a process that can involve the Canadian Security Intelligence Service (CSIS), and consultation with allies such as the United States, taking several months.
Under Canada's Investment Canada's Act's national security review regime, the government has the right to review and prohibit, or impose conditions on, a very broad range of investments by non-Canadians where it determines that an investment would be injurious to Canada's national security.
The phrase "injurious to national security" is not well defined in the Act but 11 guidelines were recently released to help navigate a national security review of investments. O'Toole is presenting his argument based on the fifth guideline in relation to Canada's Critical Mineral strategy.
If the federal government suspects a transaction could be a threat to national security, it undergoes an in-depth review under Section 25.3 of the Investment Canada Act (ICA). That typically takes many months, and can result in a deal being blocked or delayed.
The fifth guidance allows a review if there is a potential impact on critical minerals and critical mineral supply chains. Canada's Critical Minerals List, developed by National Resources Canada, sets out 31 minerals identified as critical to the success of Canada's economy and the economies of our allies, as well as to Canada's transition to a low-carbon economy.
O'Toole said that the review was critical for Canada to safeguard its supply and access to critical minerals to protect its economy and ensure that Canadian mining companies stay ahead of competitors under "autocratic, non-democratic rule like the Chinese Communist Party."
Canada currently has no lithium processing facilities nor battery manufacturers to accept any raw lithium produced from mines, despite having an abundance of projects. In the Prospector Portal database there are 58 technical reports for lithium projects in Canada. The lithium company in Canada that is closest to production is Nemaska Lithium.
China currently dominates the world's supply of lithium and batteries, and is aggressively securing supplies, especially in Argentina, to maintain this dominance.
According to reporting from the Northern Miner, Liberal MP Andy Fillmore stated that the transaction was "irrelevant to Canada's national security interests." Fillmore had more to say in a House of Commons committee on January 20th:
"This really is not a Canadian company. It's an Argentinian company. It's got its directors in [the] UK. It had…what might have been three Canadian employees on paper…the only reason it had any Canadian toehold… was to have its presence in the TSX in hopes of raising money…"
Canadian mining companies and capital markets are no strangers to foreign takeovers, if anything, this is the business model for them and countries like Argentina: attract foreign capital to develop mines around the world.
Zijin has made several transactions in Canada such as Nevsun Resources for $1.9-billion, Continental Gold for $1.4-billion, and Guyana Goldfields for $323-million. Zijin also owns a 39.6-per-cent stake in Ivanhoe's Kamoa-Kakula project in the DRC.
"Argentina could become the world's leading producer from brines in less than a decade if the flow of projects is followed and maintained," David Guerrero Alvarado, a consultant advising Canada's Alpha Lithium (TSX-V: ALLI), told Reuters in Argentina's Salta province.
Alpha Lithium is one Canadian company currently in the exploration stage for a project in the Salar Tolillar, one of many early-stage developments listed on Toronto Stock and Venture Exchanges.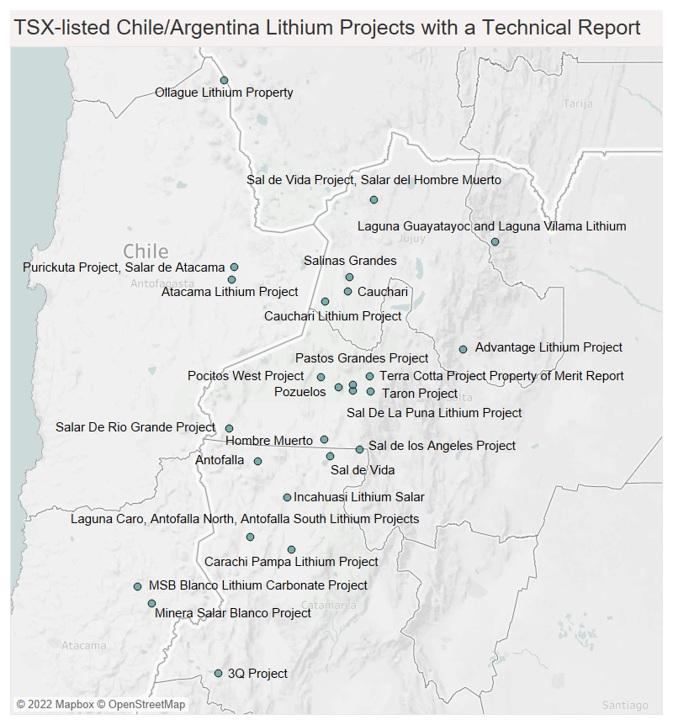 China's Ganfeng Lithium (002460.SZ) made a bid to buy Argentina-focused Millennial Lithium Corp. (TSX-V: ML) which eventually went to CATL for C$377 million and passed Canada's National Security Review without much fanfare.
On January 11, Neo Lithium said that it received clearance from Argentina's environment and mining authority for the construction and operation of its Tres Quebradas "3Q" project, one of the final conditions Zijin Mining needed to acquire the junior exploration company.
The 3Q lithium brine project is located in the Argentine province of Catamarca, the largest lithium producing area in the country. The project has measured and indicated resources of 5.3 million tonnes lithium carbonate equivalent at an average grade of 636 mg/l lithium.
A feasibility study of the 3Q project completed in October, forecast a mine life of 50 years with average annual production in the first 20 years of 20,000 tonnes of battery grade lithium carbonate equivalent.
On Jan. 26, 2022, Neo Lithium completed the announced plan of arrangement under the Ontario Business Corporations Act with Zijin Mining.