Weekly Nugget
IMF Projects $13 Trillion in Revenue Up for Grabs from 4 Key Metals
The International Monetary Fund outlines a net-zero carbon future could generate US$13 trillion in revenue from copper, nickel, lithium, and cobalt.
---
Precious Metals - 20 Dec 2021


Gold US $1,787/oz
Silver US $22.26/oz
Platinum US $950/oz
Palladium US $1,770/oz

*prices before market open Dec. 20, 2021

Base Metals - 20 Dec 2021




Copper US $9,511/t
Aluminum US $2,640/t
Nickel US $19,790/t
Zinc US $3,337/t
Lead US $2,303/t
Tin US $39,420/t

43-101 Geography


In the past two weeks, there have been several projects with technical reports all over the world. The Prospector Portal Map allows you to see all the projects in the world for this week.

Click here to view a map of all the world's technical reports.
What's News This Week?
IMF Projects $13 Trillion in Revenue Up for Grabs from 4 Key Metals
In a recent staff research paper, Energy Transition Metals, published by the International Monetary Fund (IMF), the potential metal demand from a net zero carbon scenario could generate US$13 trillion in metal production over the next two decades from copper, nickel, lithium, and cobalt production.
A typical electric vehicle battery pack uses 8 kilograms (kg) of lithium, 35kg of nickel, 20kg of manganese and 14kg of cobalt, while charging stations require large amounts of copper.
Renewable energy such as solar panels use large quantities of copper, silicon, silver and zinc, while wind turbines require iron ore, copper, aluminum, and rare earth elements. A clean energy transition could require as much as 3 billion tons of these materials.
According to the IMF paper, this demand would push metal prices to historical peaks for an "unprecedented, sustained period" in a net-zero emissions scenario. The total value of metals production would rise more than four times from 2021 to 2040, surpassing the total value of crude oil production.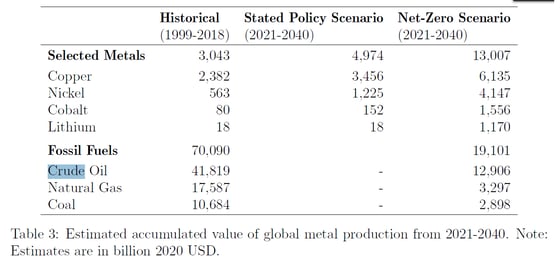 Annual copper revenues would more than double from around US$150 billion in 2020 to more than US$350 billion in 2030. Cobalt and lithium markets are currently comparatively small with respective annual revenues of US$4.9 billion and US$2.3 billion.
This is just the beginning for cobalt and lithium. Annual revenues from cobalt could reach US$129 billion in 2030. Annual lithium revenues would consistently increase to US$117 billion in 2040.
This is a rosy picture for the mining industry, but the source of these metals will pose a challenge as it takes time for new supply and production to come online which could threaten the pace of the energy transition.
Current production of graphite, cobalt, vanadium, and nickel appear insufficient, with more than a two-thirds gap versus the demand. Present copper, lithium and platinum supplies do not meet future needs, with a 30% to 40% gap versus demand.
Where are all the metals going to come from?

---
New Technical Reports on Prospector Portal
Obichnik Property
Velocity Minerals Ltd. (VLC.V)
12/08/2021

NI 43-101 Technical Report Exploration and Mineral Resource Estimation for the Obichnik Property, Republic of Bulgaria Jonathon Abbott, BASc Appl. Geol, MAIG Prepared for Velocity Minerals Limited by MPR Geological Consultants Pty Ltd Report Date: 8th of December 2021 Effective Date: 6th of December 2021 MPR Geological Consultants Pty Ltd 19/123a Colin St West Perth WA 6005 ABN 98 152 948 957 info@mprgeological.com.au
Projet Lac Arsenault
1844 Resources Inc. (EFF.V)
12/08/2021

Rapport Technique – Novembre 2021 PROJET LAC ARSENAULT NI 43-101 PROJET LAC ARSENAULT RAPPORT TECHNIQUE NI 43-101, QUÉBEC, CANADA Préparé pour 1844 Resources Inc. 2580 boul. Industriel Chambly, QC J3L 4V2 Préparé par: GoldMinds Geoservices Inc. Merouane Rachidi, géo., Ph.D. Claude Duplessis, ing. Date effective: 25 octobre 2021 Date d'émission : 01 Novembre 2021
Cordero Silver Project
Discovery Silver Corp. (formerly, Discovery Metals Corp.(DSV.V)
12/06/2021

NATIONAL INSTRUMENT 43-101 TECHNICAL REPORT MINERAL RESOURCE UPDATE OF THE CORDERO SILVER PROJECT CHIHUAHUA STATE, MEXICO Qualified Persons: Nadia M. Caira (B.Sc., M.GIS., P.Geo.) T. Roberto Raponi (B.A.Sc., P.Eng.) R. Mohan Srivastava (M.Sc., P.Geo.)
Stillwater West PGE-Ni-Cu-Co + Au Project
Group Ten Metals Inc. (PGE.V)
12/06/2021

Group Ten Metals released its first independent National Instrument 43-101 mineral resource estimate for its 100%-owned Stillwater West platinum group element, nickel, copper, cobalt, and gold project in Montana, USA.

Inferred mineral resources total 2.4 million ounces palladium, platinum, rhodium, and gold plus 1.1 billion pounds of nickel, copper and cobalt in a constrained model totaling 157 million tonnes at an average grade of 0.45% total nickel equivalent ("NiEq") using a 0.20% NiEq cut-off grade.
Labola Project
Diamond Fields Resources Inc. (DFR.V)
12/03/2021

Diamond Field Resources has filed a maiden mineral resource estimate for its Lobola gold project in Burkina Faso. The resource estimates 6.41 Mt at a grade of 1.52 g/t Au in indicated resources and 6.93 Mt at a grade of 1.67 g/t Au for 371,000 ounces of contained metal.